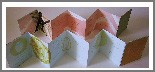 Not Falling/Not Moving

2002. 2 3/4" x 3" miniature book. Edition of 42.

Double-sided, seven-paneled accordion. Two poems about having presence and conquering fear. Handset type and two relief prints letterpress printed on painted Lenox paper. Each side of the accordion opens "correctly" making it possible to open the book from either end. Painted hard covers with foil-stamped title.

$40

"As his body moves / growing between the / cracks in the ground / his mind is / not moving"
Home | News | Catalog | Classes | About the Press | Contact
never mind the press is a trademark of Alisa Golden.